Local Schools Winners of Bee Hotels
8 November 2022:
AlphaBio Control, the agricultural technology company committed to finding exceptional plant protection products from natural sources, is delighted to award bee hotels to two Cambridgeshire schools. The hotels, which solitary bees such as the mason bee love to use to safely lay their eggs, were produced by Wood Monkey Workshop, an organisation based in Bradfield St George, Suffolk helping disadvantaged young people to realise their potential. Pupils from both schools entered a quiz at the Cambridgeshire County Day held at Newmarket Racecourse in the Summer on their knowledge of food production and farming and scored the highest marks of all those that entered the competition.
Cambridge Academy of Science & Technology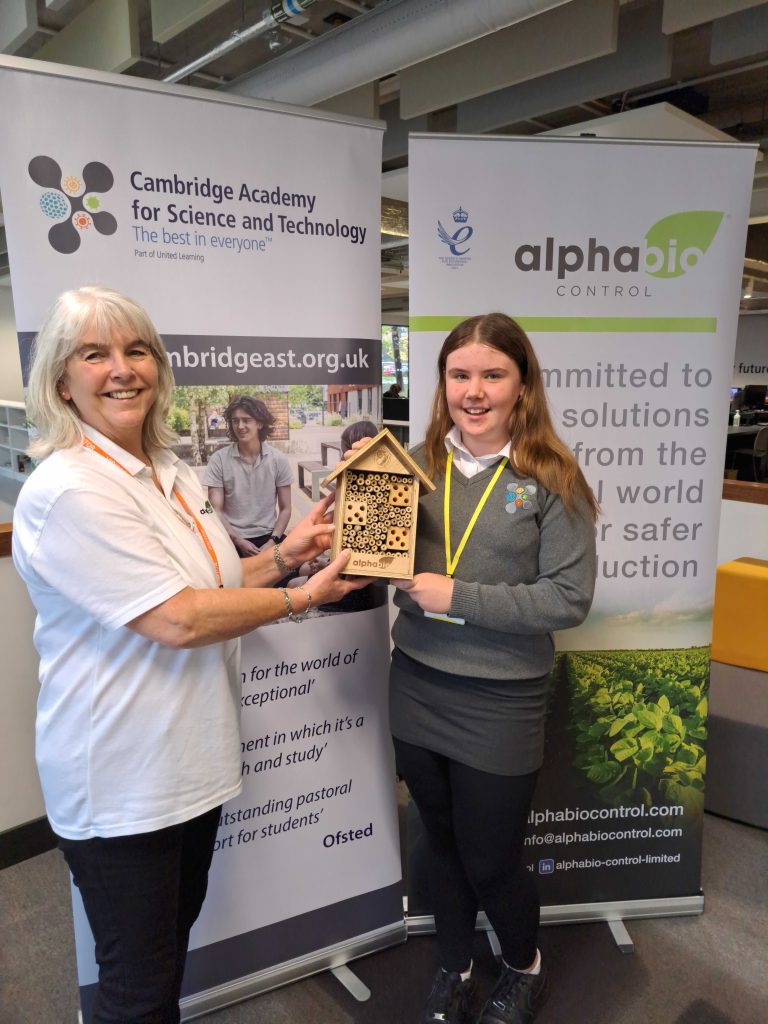 GCSE student, Lily, alongside Assistant Principal, Alistair Easterfield accepted their bee hotel at Cambridge Academy of Science & Technology, from AlphaBio Control's Susie Hancock. Lily was "quite shocked and pleased" when she heard that she had won the bee hotel, which will be placed in the Academy grounds, next to an existing insect hotel. Alistair said they took the whole school to Cambridgeshire County Day and they also had a stand showing off the work of the 6th form students.
Bottisham Village College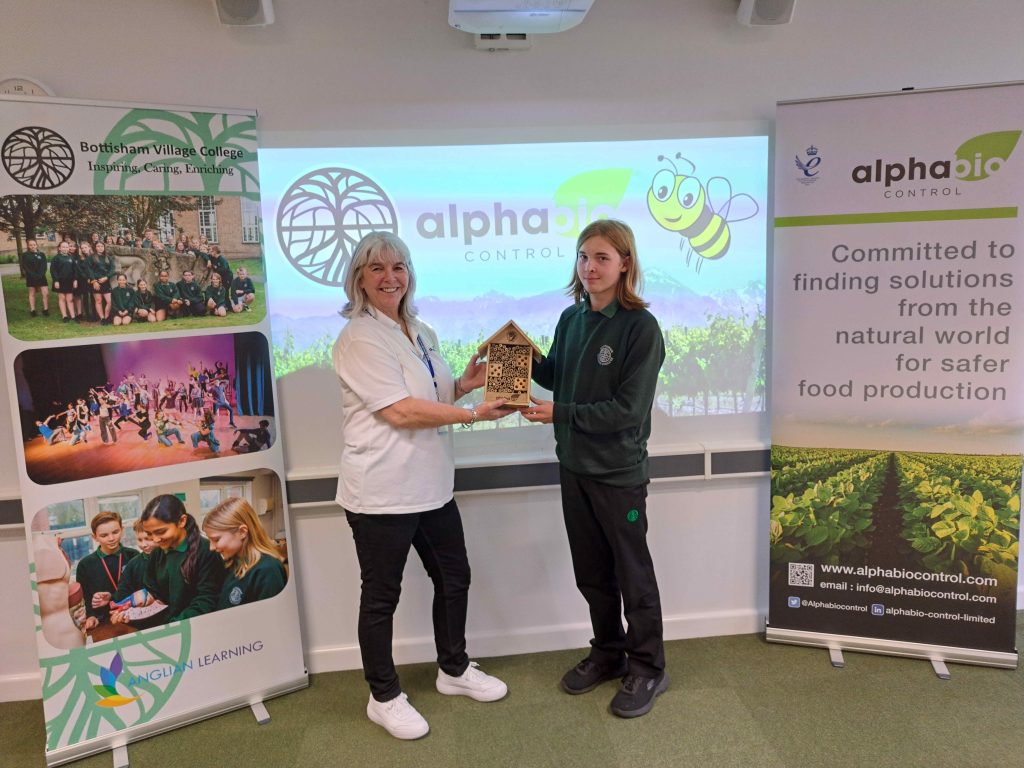 Jacob, also a GCSE student and Alex Chambers, Computer Science teacher, accepted the second bee hotel on behalf of Bottisham Village College. Jacob has decided to give the award to the school Eco Club, and they will decide where the best place is to site the bee hotel.
Why this is Important
Susie Hancock who had also helped at the AlphaBio Control stand at the Cambridgeshire County Day event explained, "It was great to see the students at the County Day taking such an interest in the environment and how their food is grown. We are keen to see natural products take over from some of the pesticides used in our fields, and these bee hotels will certainly encourage more bees to thrive locally."
ENDS
AlphaBio Control is a winner of the 2021 Queen's Award for Enterprise, in the Innovation category for FLiPPER®, a bioinsecticide derived from olive oil.
For more information and for high resolution versions of the photos, please contact:
Dr Julian Little, Director of Communications
E: Julian.little@alphabiocontrol.com
M: 07900 279 999