More people, Not enough food, Biodiversity declining, Climate change: How can a company like AlphaBio Control help?
Each and every year seems to be a critical one for agriculture and 2022 was no exception with the eighth billion human appearing on the planet, extreme weather phenomena in terms of temperature, too much and too little rainfall, and war in Eastern Europe and Eastern Africa all contributing to the first major global shortfall in food availability since 2010. Not surprisingly, as a result, food inflation pulled overall inflation ever higher.
With that scenario, we also need to take into consideration our need to not only safeguard the biodiversity we have, but to start to reverse some of the losses that we have already experienced. Clearly it is imperative that we reduce the need to cut down rainforests and avoid ploughing up other biodiversity-dense landscapes to produce food, but in the end increasing agricultural productivity will be critical in achieving this.
It would be easy to be downhearted and pessimistic about the future, but at least there is an increasing recognition of what we should be tackling to improve the situation. Fighting, mitigating and surviving climate change on all fronts is critical, and part of that is the move towards net-zero carbon emissions in agriculture, one of the last big areas of emissions where progress has been slow and where leadership from Governments has been less evident.
Scientists around the world are looking to advanced plant breeding methods to help safeguard our crops in the face of weather extremes and they may also be able to breed a greater level of pest and disease resistance into seeds. It seems likely that fertilisers will have a continuing part to play in feeding the world's population, but the use of biostimulants to maximise the efficiency of fertiliser-use and minimise their environmental impact may result in less need for what are energy-intensive inputs.
So we asked Iain Fleming, co-founder and Chief Executive of AlphaBio Control, shown here on the right with fellow co-founder and Research Director, Dr Alfeo Vecchi, how the company had performed in 2022 and what he thought the company's role was in responding to challenges facing agriculture.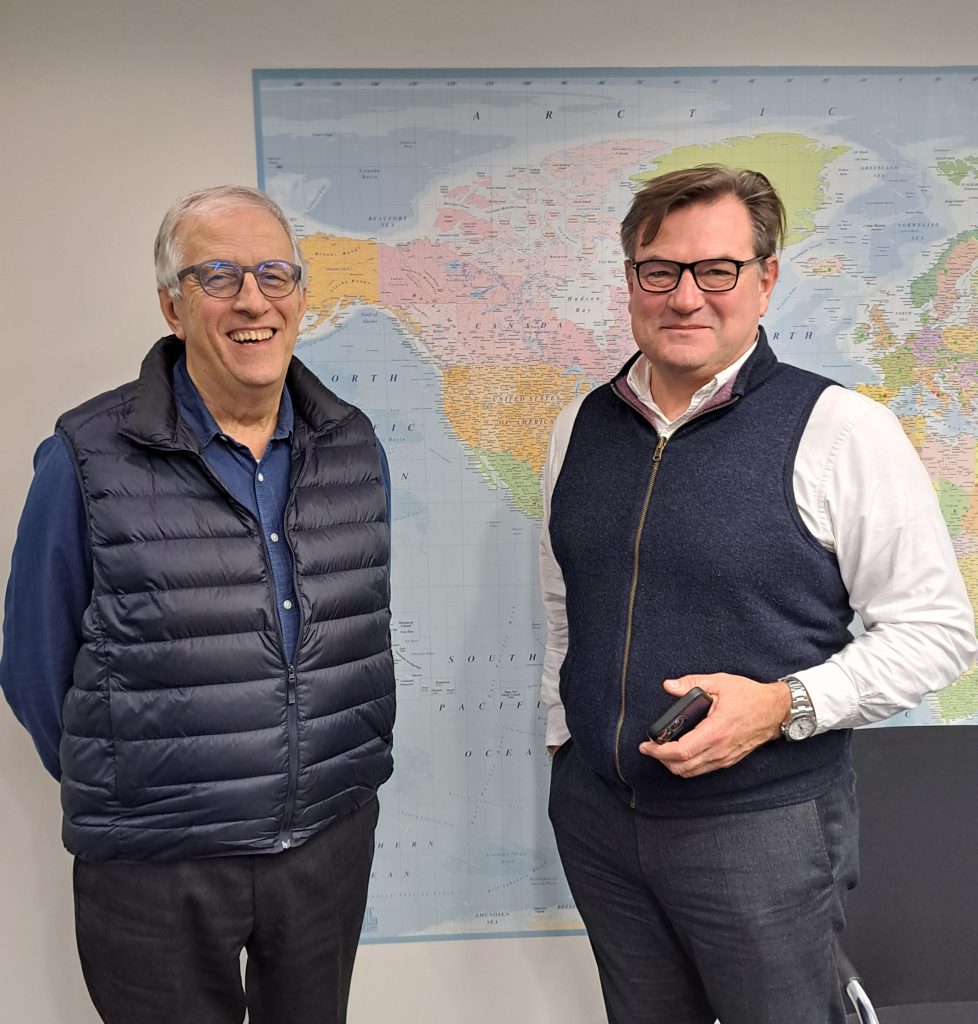 A Pivotal Year for AlphaBio Control
How has this affected AlphaBio and what is the company's role in this decarbonisation process? Well, last year was a pivotal year for the company;
Our first product to the market, FLiPPER® gained new registrations in Europe and Sri Lanka with increasing interest in Australia, New Zealand and South America, in partnership with Bayer Crop Science and De Sangosse
Crucial to our strategy, FLiPPER® was launched for use in some citrus crops in Spain;
Our new bioherbicide, MiSSiTO®, in partnership with Versalis, had its first sales in Italy.
We grew with the addition of three new members of the team;
We restructured with Market & Technical Development, Regulatory Science & Affairs, and Marketing & Communications teams being established.
Our Contribution to Reducing Climate Change
So the link between this and our contribution to rising food inflation and climate change? Our vision has always been to bring to the market products that allow farmers to grow food, animal feed and biomaterials productively but in a way that reduces the impact on the environment.
Our bioinsecticide, FLiPPER® is made from olive oil – harnessing a plant extract to safeguard other plants from the attack and spread of viruses by aphids and other insects, without damaging beneficial insects such as bees.
Our bioherbicide, MiSSiTO®, is made from sunflower oil – harnessing another plant extract to safeguard other plants from competion of others.
In both cases, the active ingredients are not produced via chemical synthesis from crude oil (👍) but by photosynthesis from carbon dioxide from the air (👍) and water. Moving our dependence away from high energy-demanding, greenhouse gas-emitting inputs, one spray at a time.
We hope that 2023 we will be able to bring you more good news of another bioinsecticide and a biofungicide that we have in development, but whatever happens, the AlphaBio Team and I trust you had a peaceful and enjoyable end to 2022, and our best wishes for 2023.